About Hotel
For booking our hotel Playotel Inn bhawarkua, (Playotel Inn Golden Treat) please call on 7529998998. Playotel Inn Golden Treat is a business class hotel near the exclusive neighborhood of the district study & institutional hub. Arrive to Playotel hotel's business accommodation catering towards your work trips with amenities such as well-equipped 28 Play Deluxe rooms, conference and meetings rooms, swift and sleek food and beverage services. Inspired by old and new Indore, Playotel offers modern essential experiences for work and relax in a stylish setting.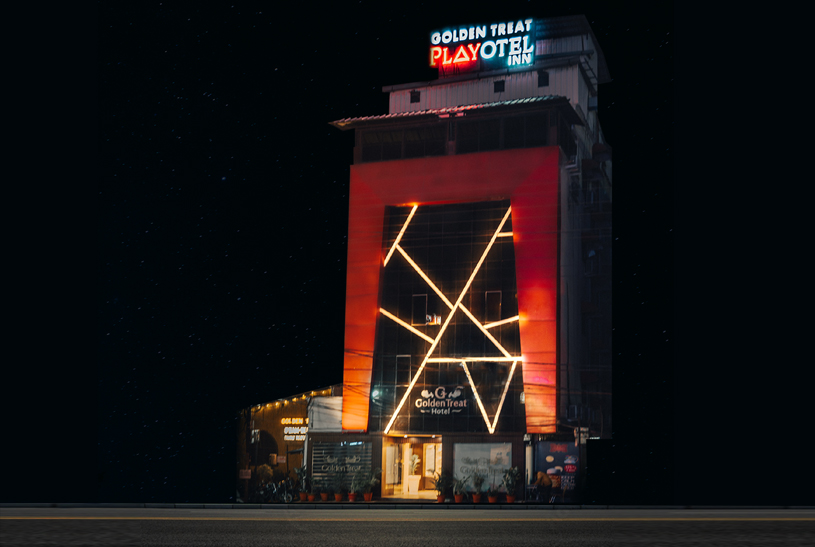 Rooms
Your home Away from home:
Play Deluxe
Room Size - 100 Sq. Ft.
Relish the arrangement of one king size bed with orthopedic mattress, work station, LCD and mini fridge in the midst of 100 square feet of space. Facilities like King size bed with orthopedic mattress, Sofa/ Chair, LCD, Alarm Clock , Desk, writing / work, Tea/ Coffee Maker, Bottled water, Mini-Fridge, Electronic safe, Well-appointed bathroom with bath amenities, Wifi.
Gallery
Get inspired for your next adventure
Location and Contact Info
Accessible and convenient
Address
Playotel Inn Golden Treat, Indore, 13, Bhawarkua Main Rd, Professor Colony, Indore, Madhya Pradesh 452001
Get Direction
PLACES NEAR PLAYOTEL HOTELS
SOMANIPURAM ADVENTURE RESORT INDORE – 13 KMS
DEVI AHILYABAI HOLKAR AIRPORT – 18 KMS
RAJWADA PALACE – 4.4 KMS
KHAJRANA GANESH MANDIR – 8.3 KMS
DEVI AHILYA VISHWAVIDYALAYA, INDORE – 3.5 KMS
KAUTILYA ACADEMY-COACHING -900KM
CHOKHI DHANI INDORE -13KM
BILAWALI LAKE -5.4KM
KAJLIGARH FORT -20KM
PRACHIN SHANI MANDIR -3KM
TAFREEH AGRO PARK -12KM
TINCHA WATER FALL -30KM
BEANS CAFÉ – 5.5 KMS
BAPAT SQUARE – 10 KMS